T-Scan® Digital Occlusal Analysis System
Parkwood Dental Associates  Serving Charleston and surrounding communities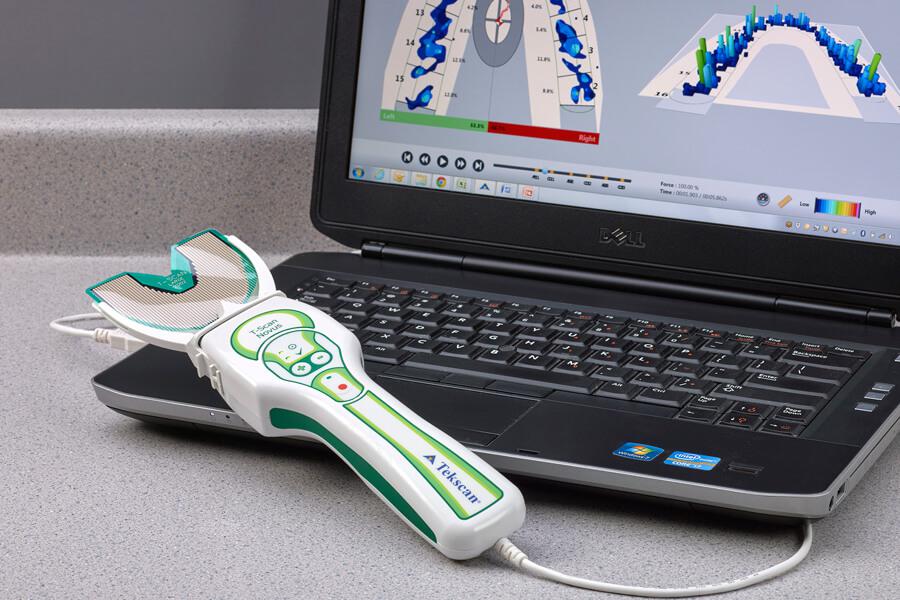 Dental technology is constantly evolving. Our office takes pride in using the latest techniques and systems available to offer our patients the most effective options for their cosmetic, restorative, neuromuscular or family dentistry needs. The T-Scan® Occlusal Analysis System offers immediate video imaging to assess your bite and determine the right course of action to treat any problems we find.
Schedule an exam with our dentist, Dr. Sander, in our Charleston office today at (843) 571-6795. Parkwood Dental Associates provides services to patients throughout the Charleston, SC metropolitan area
How Does T-Scan® Work?
T-Scan® was created by Tekscan® and is the only digital occlusion analysis system to be thoroughly researched and clinically recognized. This innovative system allows us to quickly identify malocclusions before they worsen so we can treat your bite and cut down on unnecessary repeat visits to our office. The T-Scan® analysis is a simple evaluation of your bite, which involves biting down on a thin sensor, and the software takes it from there.
The evaluation is done in seconds and offers total transparency as we can show you where your bite comes together and how it contributes to your dental issues. A misaligned bite, or malocclusion, can cause a number of problems such as porcelain veneer or crown damage, chipping teeth, headaches and TMJ pain. From your first visit to your final results, the T-Scan® offers a visual picture of what's going on with your teeth, muscles and jaw joint.
The T-Scan® system works by breaking down the mechanics of your bite to:
Determine precisely where and when your teeth come into contact with each other.

Collect data to build a visual image, which reflects the force in which your teeth meet.

Create a video to allow both our dentist and you to see your bite from start to finish.

Diagnose the correct issue with your bite and find the right treatment for you.
The traditional method of bite analysis involves articulating paper which shows where your teeth make contact, but this option doesn't show when your teeth meet or with what force. Additionally, the articulating paper has difficulty accurately showing marks where saliva or zirconia restorations are present. T-Scan® eliminates these issues and also makes the bite test less uncomfortable for patients, especially children.
What Can the T-Scan® System Do for You?
With the T-Scan® system, we can construct a treatment plan for you that is accurate and effective to cut down on the amount of time you spend in our dentist chair. This technology can be used in all areas of dentistry for children, teens and adults. For example, T-Scan® is exceptionally helpful for:
Many of our patients experience tooth, mouth or jaw pain, and T-Scan® allows us to find the source immediately so we can alleviate your symptoms and get you back to your everyday life.
Schedule Your Dental Exam Today!
Whether you are experiencing TMJ issues, unhappy with the appearance of your teeth or due for your bi-annual exam, the T-Scan® system benefits all of our patients. Schedule your appointment with Dr. Sander today at (843) 571-6795.