3Shape Digital Impressions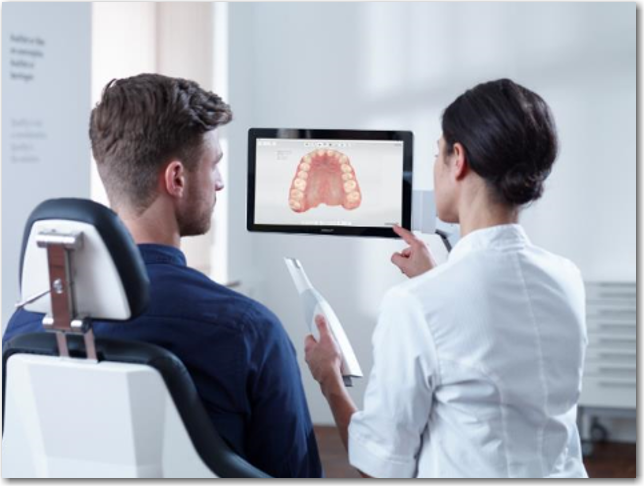 The most advanced dental impression technique to be introduced in decades is the digital scanner. Using today's technological advancements, the state-of-the-art TRIOS 3Shape® scanner replaces the uncomfortable, unpleasant-tasting, messy and sometimes inaccurate traditional putty impressions. No bulky trays or sticky putty needed!  
Using CAD/CAM technology, the scanner provides Dr. Phillips with a high quality digital impressions of your teeth and bite. These impressions will help us formulate a personalized treatment plan that meets your specific needs.  The need to retake impressions due to material set up complications is eliminated.  
After your specific treatment plan has been chosen, the digital impressions allow us to create customized appliances with the scanned impressions being sent to our laboratory via secured online communication, reducing turnaround time.  Equally important – the accuracy of the fit is greatly improved.
Patients appreciate the comfort of the scanner as well. Oftentimes, with trays filled with impression materials, patients may experience a gag reflex. This can occur when impression material touches the roof of the mouth. With a digital scanner this is no longer a concern.
Some benefits of TRIOS 3Shape® digital impressions over traditional putty impressions include:
Accuracy: They capture the exact contours of your teeth.
Efficiency: They require less time in the treatment chair.
Comfort: Taking the digital images is less invasive. No putty is used, and patients are more at ease without fearing they will gag on the impression putty.
Customization: They provide a digital plan and allow for trays that are tailored to meet the individual needs of each patient.
Innovation: They use the most advanced 3-D video technologies.
It's apparent that intraoral digital scanners are changing the future of taking dental impressions. We are pleased to offer this advanced technology to our patients!
Contact Parkwood Dental Associates to schedule a consultation.